The team at Orthogone includes people with varied backgrounds and specialties. Pascal Lévesque holds a Master's Degree in Computer Science (Artificial Intelligence) and has 25 years of software design experience in various domains including the newspaper industry, communication, transportation, and aerospace.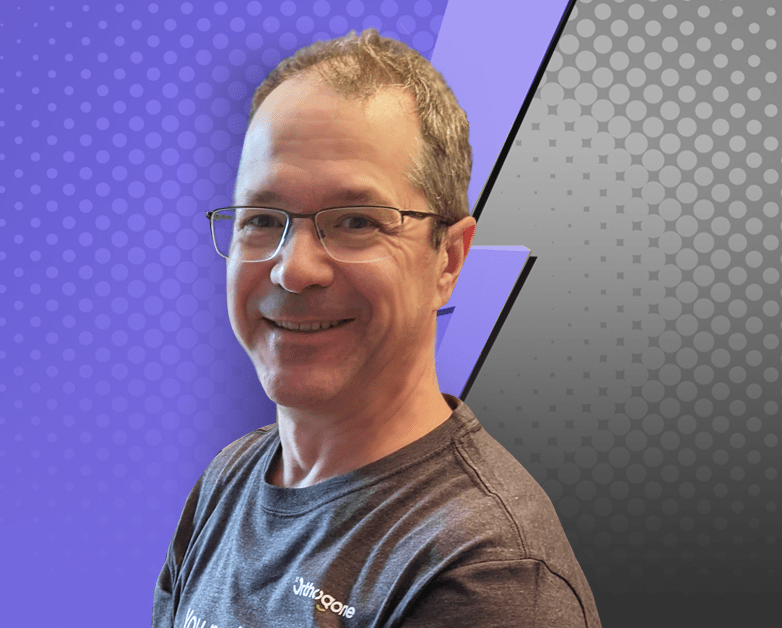 "My favorite part of working at Orthogone for the past 10 years is both my co-workers and the variety of projects that we work on."
In this Q&A session, Pascal shares what people frequently misunderstand about software design, and what it was like to study artificial intelligence 25 years ago.
Pascal Lévesque
Senior Software Designer,
Orthogone Technologies
Meet Senior Software Designer Pascal Lévesque
Q: What has changed about being a software designer since you started?
A: When I studied computer science at the University of Laval, computer engineering was just starting; the computer science bachelor degree was computer science applied to engineering, so I took some electrical engineering courses as well. I decided to continue with a master's degree in artificial intelligence. AI is hot today, but 25 years ago, it was pretty new, it was more a psychological analysis of insects and how reflex will determine behavior; deterministic behavior. It was really interesting.
Since I first started working, project complexity has increased. Projects are so big now they can't be done by a single person. And the development process has changed with agile.
Learn more about software development at Orthogone
Q: What was one of the biggest challenges you had to overcome?
A: Early in my career, in the newspaper industry, a new system was developed that focused on new features/capabilities and ignored some existing features and the response time of the old system. The switch to the new system was done as a cutoff, without giving the people involved much detail, even though it was a drastic change. The new system had more features, but people were used to the old system so the new one slowed them down, and speed was essential for them to do their jobs well. Finally, after proper fixes and staff training, it went OK, but the development team suffered for a couple weeks after deployment.
I learned not to jump to production until there's been a test phase or a lot of training. I was junior at the time, but the lesson stayed with me – for every project, I ask "OK, did we cover that? Are we missing something that's really key?" Sometimes if you miss a detail it can be a nightmare when you go to production.
Q: How does being a software designer involve innovation?
A: Innovation for me translates into applying good software practices to new application domains. Software development is like cooking; you have many recipes, but the ingredients are the same. So, innovation is applying what you've learned as good software development to bigger projects and different applications. We know how to develop software; the learning challenge is more on the application domain.
Learn more about technology innovation at Orthogone.
Q: What do people misunderstand about being a software designer?
A: Embedded software design is a bit abstract for people not in the domain. Also, many people still think that software design is a solo job. It's not only a job with a machine, it's a job with people. Today, it's all about team effort. Good communication skills are often as important as technical ones. Since we're working as consultants, we need to be able to communicate with the customer and be able to capture background information and then explain what we've done so they can take over when our mandate ends.
We always work with others, chatting a lot and sharing a screen and interacting with other people. That makes the job fun. The need for communication skills and technical skills can make it challenging to find the right people. My coworkers at Orthogone are good at sharing expertise; it's always good to talk with them, learn from them, and share knowledge with them.
Learn more about the work environment & quality of life at Orthogone.