When you have a tough engineering challenge or need an innovative solution to a problem, it takes a team of experts with many skills.
Orthogone's teams have a wide range of expertise and custom engineering services including FPGA design, embedded software, systems engineering, electronics engineering, and software product development. That's why companies look to Orthogone for help scaling up their in-house teams to get to market quickly. Of course, you'll have many questions before starting a project
Here are answers to some frequently asked questions:
Q: How can we speed up development time & minimize risk?
A: An experienced team with the right skills and high standards can ramp up quickly and deliver quality results. The need for fast, high-quality results with minimal risk prompts many clients to engage our custom engineering services. Our business is driven by forming long-term partnerships built on a foundation of trust. Clients choose to work with us to minimize the risk of developing products with technology that's new to their business.
Extend your technological expertise and increase the velocity of your development team with our custom engineering services
Q: How do you encourage innovative thinking and creative problem-solving?
A: Our multi-disciplinary teams thrive on complexity to help you innovate with confidence in emerging technology markets. The range of projects we work on allows our teams to share cross-functional knowledge and new ideas that spark creative problem-solving. Teams present projects in progress in regularly scheduled meetings to gain insights from everyone's diverse industry knowledge, academic backgrounds, and lessons learned from previous projects. The work structure at Orthogone is designed with rigorous processes and minimal bureaucracy to encourage innovation and reward creativity.
Discover how Orthogone provided engineering services to design the electronics of an automotive-grade LiDAR reference solution from scratch on an extremely short schedule in this case study.
Q: How does the company invest in research & development?
A: Research and development are core activities for us, so you benefit from our R&D without having to invest internally. Our team members stay current with the latest technology and tools, so they're ready to implement them on your project right away. The pursuit of graduate studies is also encouraged and supported by Orthogone so that team members can acquire advanced knowledge in a formal, academic setting. By working with our technical team, you save the time and money it would require to scale up your internal teams.
Learn more about software development, systems engineering, electronics engineering, and technology innovation experts.
Q: We're interested in a collaborative style of working; can you help our in-house team learn and expand their knowledge?
A: By integrating our developers with your existing team, you can benefit from their high-technology skills and expertise while leveraging your strengths and expanding your development capacity. You save the time and training investment that would be required for your in-house team to learn and implement technology that they're not familiar with. In some cases, depending on the situation, we can also transfer knowledge to your teams, helping to save training time.
Q: We've never worked with an outsourced engineering team before. What can we expect?
A: Here's what Pierre Boulanger, Chief Technology Officer for FLIR Systems says about working with us:
"The range of products that we have is extremely wide and we pick up technologies that are ripe for advancements. Never been done before. We have a partnership with Orthogone where they have very highly qualified people that we use to expand the bandwidth of my small team…..
"A players like to play with A players. Since that's the case it brings the mood up for everybody. To get that type of help. It's not just help in communication, it's tangible technical savvy that is a breath of fresh air for any engineer."
-Pierre Boulanger, Chief Technology Officer for FLIR Systems.
Q: How do we get started? What's the first step?
A: The first step is to contact us and explain your project so we can evaluate the fit and determine how we can help you achieve your objectives through our custom engineering services. We offer a range of flexible options for engagement including time and material, fixed price, license and support, so you only need to contract the services you need.
Discover the answers to more frequently asked questions.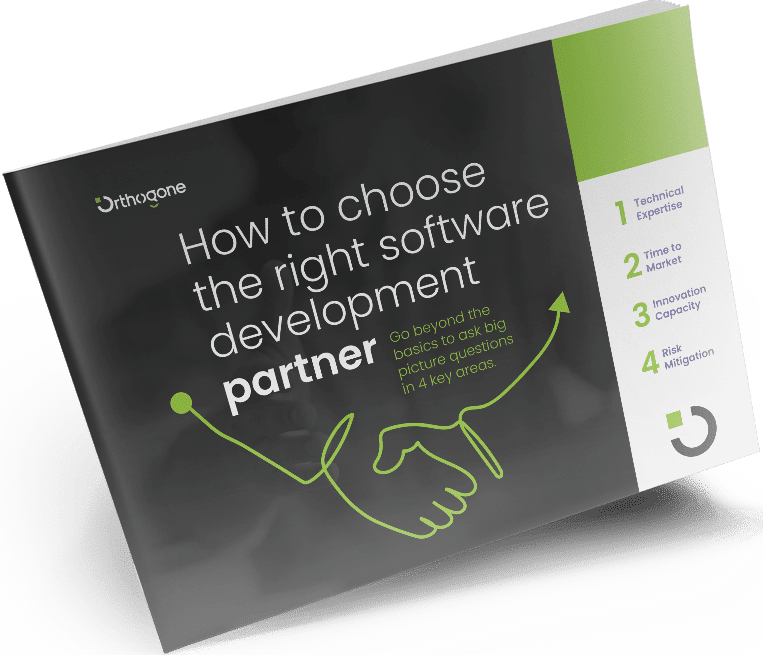 Learn which questions to ask to choose the right software development partner.

DOWNLOAD FREE EBOOK