Enabling communication in high-noise environments
Develop an innovative solution to help people communicate
LOCATION:

Montreal, Canada
EERS Global invents, designs and tests advanced intraocular technologies. Their cutting-edge technology enriches the human experience in communication in noisy environments, hearing protection, biometric control and wellness, brain-computer interface and more. They ask Orthogone to develop a bionic ears device with their internal team – including the hardware, firmware and DSP – to help people communicate effectively in high-noise environments.
Protect hearing and preserve audio fidelity
Operate in a high-noise industrial-type environment
Work wirelessly over a significant distance
A partnership with Orthogone for technological expertise
With experienced embedded hardware and software designers, Orthogone's team was well equipped to provide a pragmatic approach that helped our client push its cutting-edge technology idea to the limit and thus meet its disruptive product goals.
Hardware, firmware, and multiple audio digital signal processors algorithms for bionic ears
Orthogone ported and optimized several DSP algorithms developed by auditory researchers to effectively run on a size constraint low-power consumption microcontroller. Sophisticated audio seal tests were implemented to ensure the earphones produce rich, smooth frequency responses across the entire audio spectrum. Advanced radio processing techniques were developed to minimize power consumption and extend battery life.
Electronic design of high-density printed circuit board (PCB), including:
Hardware and mechanical design concept and architecture
Hardware design based on NXP LPC microcontroller
Design of wireless Bluetooth and Sub-GHz radio and antenna
Product qualification and characterization over environmental conditions
Software architecture, design, test, and integration including:
BSP and device drivers
Multiple audio DSP algorithms
Real-time code optimization
Power consumption optimization
Radio communication processing
NXP LPC microcontroller
Audio codecs
Wireless Proprietary Sub-GHz + BT 4.1 chips
Disruptive in-ear technologies that enhance and preserve the auditory and quality of life
The first smart hearing protection to transform an uncomfortable mandatory equipment (the «ear plug », or HPD) into a valuable and efficient tool. The bionic ear is turned into a productivity enhancement tool by allowing the worker to communicate with other workers in quiet and noisy environments since it automatically verifies that the earpieces are adequately inserted before the worker is exposed to noise. We work hand in hand with our customers to transform this project into world-class products ready for the market.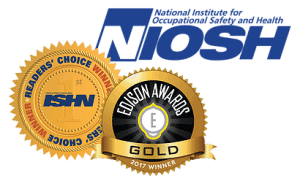 The product won a gold award in Voice & Hearing Technology category (Edison Awards) and is gaining mass market adoption.
So, what's your challenge?