The team at Orthogone includes people with varied backgrounds and specialties. Raphaël Lemay (Software Developer) joined the team in 2018 after his internship at Orthogone and completing his Bachelor's degree in Electrical Engineering at L'ÉTS (École de Technologie Supérieure).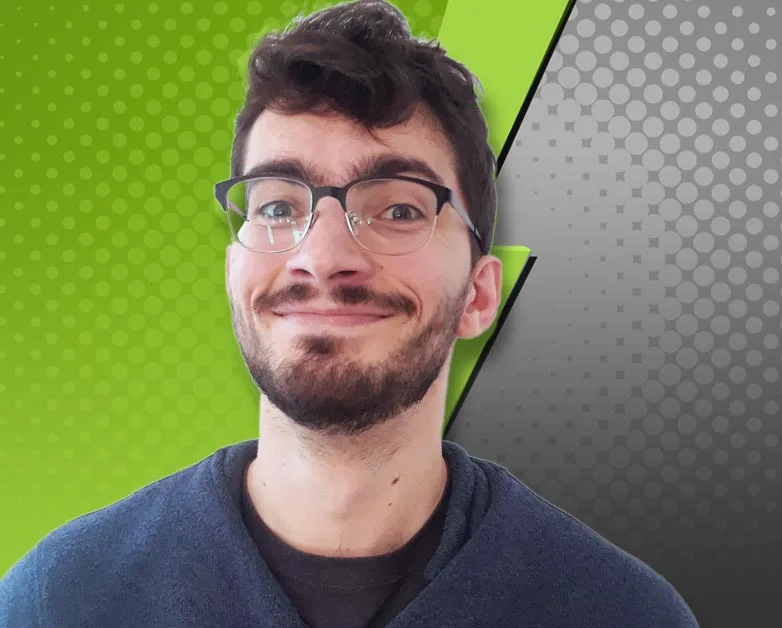 " love the team spirit, especially at the director level. I really like the flexibility and openness of the management team. "
In this Q&A session, Raphael Lemay (Software Developer) explains his journey as an intern, then as an employee, and why he chose to join the Orthogone team.
Raphaël Lemay
Software Developer,
Orthogone Technologies
Meet Software Developer Raphaël Lemay
Q: How did you end up working at Orthogone?
A: Before working at Orthogone, I did two internships, one at CAE and one at Haivision, where I did software development. I then did an internship at Orthogone and was hired on a part-time basis as I finished my bachelor's degree gradually by combining work and studies during the last year.
I really liked the formula and the flexibility of the part-time study and work schedule. As soon as I graduated, Orthogone hired me full time, and I'm still there! It has been four years now.
This experience allowed me to test several types of companies and I must say that I prefer the one of Orthogone: everybody knows each other, the managers or team leaders are close to us… This facilitates exchanges and makes the work more pleasant.
Learn more about software development at Orthogone.
Q: What is your favorite thing about Orthogone?
A: My favorite part of working at Orthogone is definitely the team. Our team leaders are always there to support us. I love the team spirit, especially at the director level. I really like the flexibility and openness of the management team.
My colleagues, especially the senior developers, are professional and always ready to help me. Since we all have different skills, we complement each other well. I learn more and more from them every day, because the projects we work on are extremely diverse: medical, video, automotive, etc. It's really an advantage, because we all have different skills. It's really valuable because I can easily develop a wide range of knowledge.
Q: Any advice for someone looking for an internship?
A: An internship is a good opportunity to test what works and what doesn't work so well for us, for example, by trying different sizes or types of companies… At Orthogone, it is great, because during the internship, you can work in any field, unless of course you specify a particular field.
It is very rewarding, because you can gain a lot of experience in a short time in several areas, which is not necessarily possible in other companies. In big companies, because of the size of the projects, it is not possible to be as versatile without changing teams. At Orthogone, the diversity of the projects is really an asset in my opinion.
Learn more about the internship programs at Orthogone.
Q: What is your favorite project at the moment?
A: I really like the project I'm working on right now: my team is collaborating on an unmanned space shuttle project. All the teams collaborate very well, sharing information is easy. It is a project that I consider very complete, because we have to develop and test it at the same time. It is complex, but very rewarding. The project has been going on for three years now, and I have been working on it for a year, but I am still very motivated.
Learn more about the work environment and quality of life at Orthogone.
Q: What do people misunderstand about embedded systems and the software development profession?
A: Often, people think we create websites, or applications. I also have friends who submit their ideas to me, but they don't consider the full scope of the projects they propose! When I have to explain what I do on a daily basis, I just say that I code…
I presented a concrete example to my girlfriend at the beginning of our relationship – a cat feeding machine! – where the programming was present thanks to a small console. It's always easier when you have a common application at my job on a smaller scale.
Q: Do you enjoy working remotely?
A: Yes, I like working remotely. I thought that after a while I would prefer to go back to the office, but in the end, I like not being in traffic and managing my time well. I still like to talk with my colleagues in person. But I think I'll go with the hybrid work mode since Orthogone offers it to its employees.
Q: How do you find creative solutions to your everyday projects?
A: There is always more than one way to solve a problem when developing a project. As a software developer, the challenge is to find solutions that are both simple and robust. Of course, this requires a very good understanding of the problem or project, hence the importance of knowledge sharing. This way, we always get a second or even a third opinion, which is beneficial for the team and the client.
I even find myself using this approach in my daily life: I much prefer collaboration and mutual aid to having the last word.